Best performing trading cards of 2017
By Brent Huigens, CEO
Collecting trading cards has been a longtime hobby of mine, as it has for countless other sports enthusiasts and Americana art collectors. For many buyers and sellers, though, trading cards have become more than just a casual pastime: they are rapidly becoming a legitimate hybrid alternative investment that combines the romance and nostalgia of fine art with the empirical performance data of stocks. Trading cards have a considerable amount of historical sales data available and are traded with enough frequency to allow us to perform sophisticated statistical analysis of the cards' value, much like a financial analyst might examine stocks on the stock market.
The trading card market is not chaos; there is logic behind specific cards and their relative performance, and the same rules of supply and demand apply to trading cards as to any other asset class. As the largest major market operator in the space, we understand what drives value and trading performance. As such, we've kept a close eye on the market and identified the following 10 cards as demonstrating some of the best ROI values in 2017.
1. 2000 Tom Brady Rookie Card (PSA 10). This is the premier modern trading card produced during the last 30 years, and it is quickly becoming one of the most valuable trading cards in the world. This is one of only 14 in the world graded 10/10 by PSA, which makes it one of the rarest key rookie cards issued during the modern card era. The reason so few have received the coveted 10/10 grade is that the production used a shiny metal foil that is prone to scratching and chipping at the edges, and the initial production quantity from the manufacturer was very limited. The value of this card has risen sharply over the last few years, from $5,000 in 2012, to $10,000 in 2014, to $35,000 in 2016.
UPDATE: This card sold for nearly $110,000 in our February 2018 auction.
2. 1911 T206 Ty Cobb "Red Portrait" Card (PSA 5). Prewar baseball cards saw tremendous growth in 2017. Among the most desired prewar issues ever made are 1911 T206 tobacco cards of Hall of Fame inductees. At the top of this list of desired hall-of-famers is Ty Cobb, and this "Red Portrait" variation is arguably the most iconic and desired tobacco card in the world. The value of this particular card has roughly doubled over the last year, with the featured PSA 5 T206 Cobb Red Portrait selling for $7,990 in our December 2017 auction.
3. 1933 "Yellow" Goudy Babe Ruth Card (PSA 5). Continuing the prewar baseball trend, we flash forward 20 years to 1933 and the Goudey Gum company's production, which features Babe Ruth on four different designs. These 1933 Goudey Babe Ruth productions are arguably the Bambino's most desired, displaying beautiful colors and oversized card stock for the era. In 1933, Babe Ruth was still an active player, yet his immortality was already firmly affixed in the eyes of the public. Goudey made only 240 different cards for its entire 1933 production, but interestingly the company awarded a whopping four slots to Babe Ruth, which says a great deal about his overall popularity. The values of most iconic prewar trading cards rose in 2017; this "Yellow" 1933 Goudey Babe Ruth in PSA 5 sold for $15,000 in our October 2017 auction, more than double the market value of just a year prior.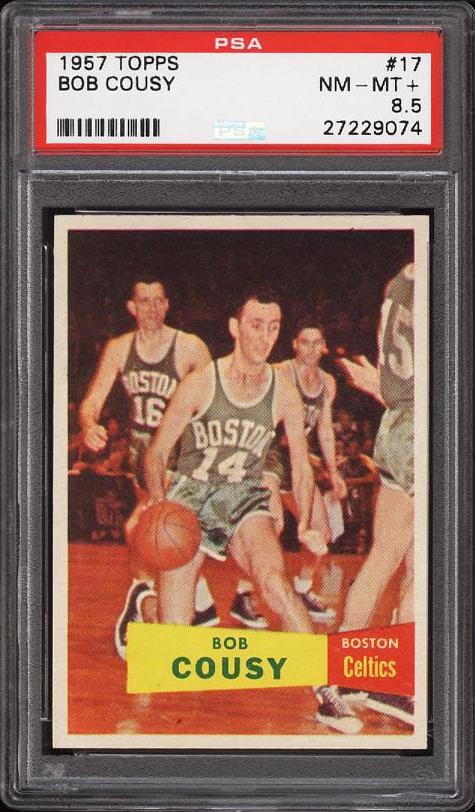 4. 1957 Topps Bob Cousy Rookie Card (PSA 8.5). Rookie cards remain the primary focal point for all postwar card productions. Those rookie cards that feature key hall-of-famers will always be popular among blue-chip card investors. Perhaps the most difficult vintage basketball rookie card to locate in high grade is the elusive 1957 Topps Bob Cousy. The featured card is the highest-graded copy to hit any auction venue in history, receiving an 8.5/10 from PSA. Several PSA 9s do exist, but none have ever sold publicly. This PSA 8.5 sold for $28,600 in our August 2017 auction, a figure that exceeded the closest prior sale of a PSA 8 by 500 percent.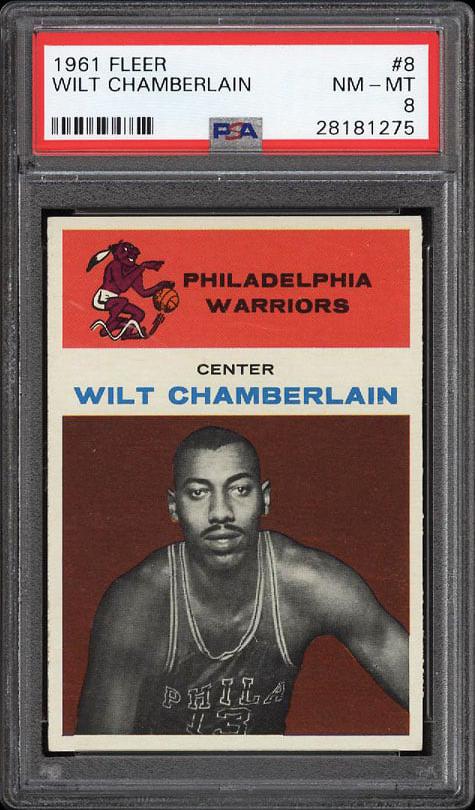 5. 1961 Fleer Wilt Chamberlain Rookie Card. Perhaps the most popular vintage basketball rookie card in the world, the 1961 Fleer Wilt Chamberlain will always be highly desired. As time marches on, the inherent scarcity of this card (relative to demand) is having the expected effect, and prices are rising quickly. Recent sales have shown a value increase of 50 percent or more. This card sold for $9,218 in our November 2017 auction.
6. 1962 Topps Mike Ditka Rookie Card (PSA 8). Vintage football rookie cards showed tremendous growth in 2017, as investors are increasingly viewing football trading cards as undervalued in relation to their rarity. Football received a far lower production run from the manufacturers (compared to baseball), so most vintage football cards are inherently scarce. Among the most desired and rare rookie cards in high grade is the 1962 Topps Mike Ditka. This too has seen significant value increases in recent times, with the offered PSA 8 bringing $3,573 in our November 2017 auction.
7. 1993 SP Derek Jeter Card (PSA 10). Arguably the single most coveted modern baseball card in the world, the 1993 SP Derek Jeter was produced at a time when very few manufacturers aimed to make limited productions or employ high-quality printing methods. The SP issue from 1993 was an outlier, featuring industry-unique all-foil surfaces that were horribly prone to scuffs, chipping and scratches. Limited in production and exceptionally rare in ultra-high grade, the PSA 10/10 examples have risen sharply in value over the last year. This card sold in our November 2016 auction for $37,600, though now, a year later, current market estimates place this card at $50,000+.
8. 2003 Gold Refractor Lebron James Rookie Card (PSA 10). In the world of modern trading cards, no sport holds more cards with the investment-caliber distinction than modern basketball productions. Kobe Bryant, Michael Jordan, Stephen Curry and, of course, Lebron James are just a few names that have experienced tremendous value gains in recent years. The pictured 2003 Gold Refractor Lebron James PSA 10 is one of a mere 50 copies ever made and one of only a couple confirmed PSA 10s in the world. This card sold for $24,500 in our July 2017 auction – up nearly 500 percent from our last sale, of $5,511, in 2015.
9. 2009 Bowman Chrome "Orange Refractor" Mike Trout Rookie Card (PSA 9). Modern cards industry-wide have experienced surprising price increases. Current-player rookie cards are always the most volatile, as a given card's value fluctuates with the performance of that particular athlete. That said, some superstars seemed destined for immortality even early in their careers, and Mike Trout embodies that excitement as much as any other athlete in the world. All Mike Trout rookie cards have seen impressive gains over the last year, with some of his most popular productions surpassing the norm. Only 25 copies were ever made of the highly coveted "Orange Refractor" variation of his hugely popular 2009 Bowman Chrome depiction. This PSA 9/10 card fetched an impressive $9,438 in October 2016 and carries an estimated value of $15,000+ today. The few PSA 10/10 copies of this card that exist are estimated to be worth more than $50,000.
10. 1999 1st Edition Hologram Charizard Pokémon Card (PSA 10). It's important to note that the world of trading cards is not limited entirely to sports cards. Far from it! One of the largest growth sectors in the industry is non-sport issues featuring modern productions of game cards such as Magic: The Gathering, which caters to 25 million game players worldwide, and Pokémon playing cards, which have recently seen dramatic price increases. As is always the case with trading cards, public perceptions of the athlete, game or brand largely determines demand for that production, and in the case of Pokémon playing cards, the recent unveiling of the game Pokémon GO made that brand a worldwide phenomenon. What has transpired is a steady growth in the value of Pokémon cards, like this one, realizing increases of 500 percent or more over the last 12 months. The 1999 1st Edition Hologram Charizard PSA 10/10 is universally regarded as the premier Pokémon card in the world; it sold for $19,950 in our October 2017 auction, up from just $5,500 a year prior.
Sell on the Auction Marketplace
PWCC manages the largest trading card auction venue in the world, comprising 12 annual auction events which start every month of the year. Each event consistently features some of the finest trading cards in the world in an easily-surveyed format that reaches both hobby and investment minded clients alike.